RepreZen API Studio is a java-based application that is launched in various ways depending on your operating system and how you installed it:
| | |
| --- | --- |
| • | Windows (installed using setup.exe): use the shortcut placed in the start menu or on the desktop (if you selected this option during installation). |
| | |
| --- | --- |
| • | Windows (installed from the zip file): navigate to the installation folder and run RepreZen.exe. |
| | |
| --- | --- |
| • | MacOSX (app installed from zip file): run RepreZen.app from spotlight. |
After doing this the RepreZen API Studio splash screen will appear followed by the workspace selection dialogue: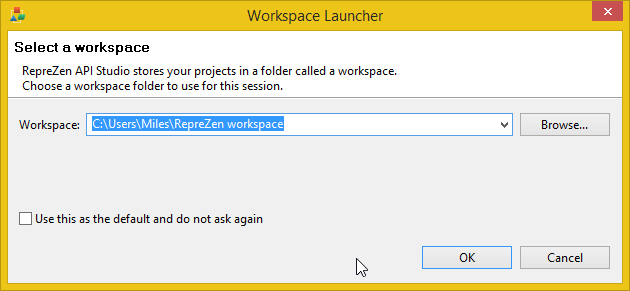 Select the 'Use this as the default and do not ask again' checkbox and press OK.
When RepreZen API Studio has launched the first thing we see is the Welcome Screen. This has some useful information. When you have finished with it, close the window to begin working with API Studio: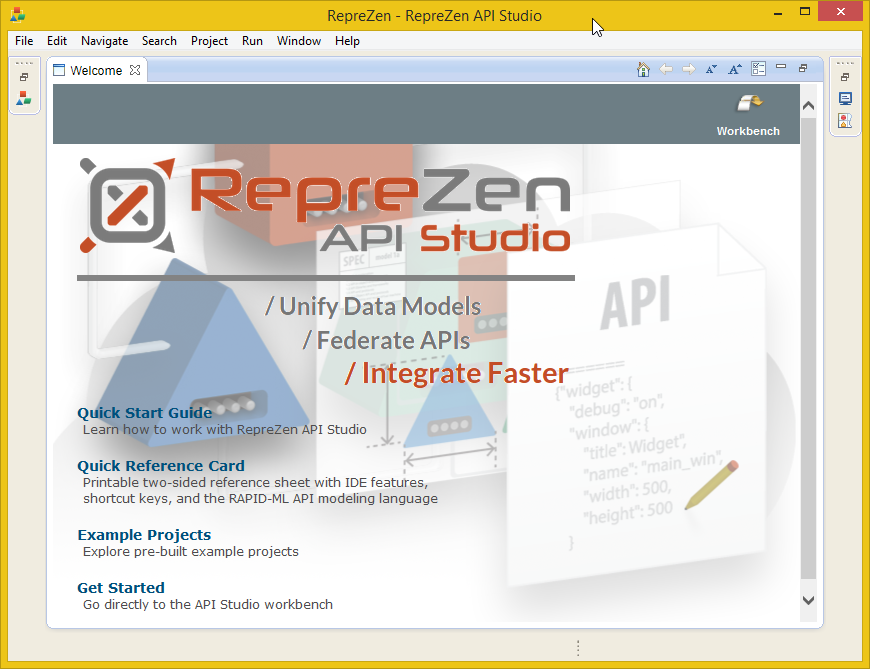 Copyright © 2016 ModelSolv, Inc. All rights reserved. RepreZen and RAPID-ML are trademarks of ModelSolv, Inc. Swagger is a registered trademark of SmartBear Software, Inc. RepreZen API Studio is not associated with nor endorsed by SmartBear Software, Inc.